Consistent global branding is critical to driving brand strength. I have created dozens of global brand guidelines (nearly all of which are considered internal documents not suited for public consumption). I have also led a number of major re-branding initiatives. Below are just a few examples.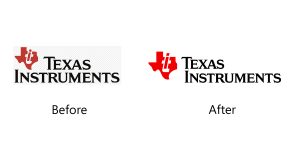 Branding of employer facilities is a big part of the first impression for customers, employees, clients, media and other key visitors. TI took an opportunity to completely redesign the global headquarters building and I was charged to lead the branding and visual elements of the redesign. I also spearheaded the employee communications outreach for the project along with internal "branding" of the initiative to build excitement and energy. The scope of this project was significant: 740,000 square feet of office space, 5600 occupant moves, 798,000+ man hours taking over 22 months from start to finish. The results represented a huge team effort and I enjoyed adding the creative elements (including digital signage and projection areas, to add a little "wow".
Below is the branding/theme I created to build excitement about the construction project internally with employees. The building changes would be dramatic, yet change is not always comfortable for everyone, so by putting a positive spin on building for the future, it helped to ease employee anxiety regarding the changes.
Below are various images of the updated headquarters building for TI starting with the Welcome Center in which I also led the video content efforts.